New "Choose Your Currency" Feature on The Homeopathic Book Company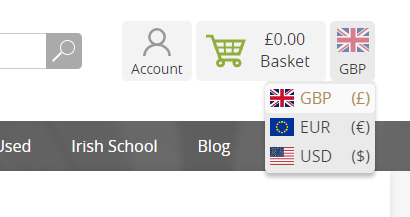 We are delighted to announce that you can now browse and pay for orders through our online web store in three different currencies - £GB, $US and €EU.
We have created this new feature for a number of reasons:-
To offer our many customers from the USA, Europe and elsewhere an easier and more transparent browsing and purchasing experience.
To protect our customers who pay in these currencies from any hidden costs associated with currency exchange.
To offer all of our customers the choice to pay in a currency which offers them the best rate of exchange.
Not only does this new feature benefit users when they first visit the shop, it also ensures that returning customers have a seamless experience by saving their chosen currency. Here's how it works:-
If you change the default currency (£GB) to either $US or €EU as a visitor, this choice will be stored as a cookie on your device. Unless you clear your cookies, your selection will remain the same when you return to the store.
If you have registered an account with us and are logged in, your currency preference is stored against your account.
We hope that this new feature will improve your user experience in our store and help you make the right choices when purchasing your books.
Posted in The Homeopathic Book Company on the 3rd March 2022 at 10:24am.