Register For The Global Homeopathic Summit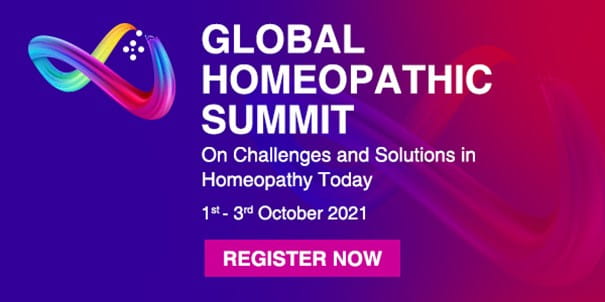 Dear Colleagues,
You are warmly invited to the
GLOBAL HOMEOPATHIC SUMMIT
On Challenges and Solutions in Homeopathy Today
1st – 3rd October 2021
We are excited to share with you an upcoming GLOBAL HOMEOPATHIC SUMMIT which is bringing together homeopaths from all over the world.
Given the extraordinary times we are living in and the unique challenges being faced in all ways, including looking at natural health care options for Covid-19, this summit will bring together many homeopaths from all over the world. it will also be exploring how to build more permanent bridges between homeopathic communities from many different countries and languages.
More than ever, there is a need to find strength in solidarity and unity within the homeopathic profession and it is hoped that this summit will be the beginning of an ongoing forum for sharing homeopathic knowledge.
The summit will cover the following topics:
• Epidemics and pandemics - history, current situation, and preparedness for the future
• Role of Homeopathy in the management of epidemics, cases and long term implications
• Current challenges and solutions in Homeopathy today
An opportunity for the participants of Global Homeopathic Summit is to let the world know about their abilities and knowledge by presenting their case studies via short videos and helping others learn from their unique experiences.
RESERVE YOUR SPOT NOW
(Places are limited)
https://homeopathysummit.online/summit/?utm_campaign=VHARP
There is also a great webinar series being planned which gives access to many homeopathic practitioners and their work. If you are interested, please use the link below and explore what is on offer. You don't have to watch it all live but can access the material at your convenience.
https://onlinehomeopathycourse.com/Course/MISSION-5000-I-Stand-Up-For-Homeopathy?utm_source=m5000enVHARP
Posted in Conferences on the 14th September 2021 at 11:49am.